Support Subscription

Securing your high availability and performance, business goals, not losing data and running your applications and services without interruptions requires a solid and robust solution. Galera Cluster is that solution. Thousands of companies trust Galera Cluster. Galera also powers MariaDB Cluster and Percona XtraDB Cluster.       
Codership's support personnel consists of the core developers of Galera technology. We know Galera Cluster code better than anyone else in the world. Our diligent team is available 24x7x365 helping to secure up time, prohibit disaster to happen or recover from the failure, improve performance and give best practise advice for your complex environments. Secure your business objectives and SLAs  with Galera Cluster support subscription!  
"We could not be happier with the product and the support provided by the Codership staff. It's just great and we encourage everyone to try it and use it. We love Galera Cluster and we invite anyone who is interested to check out our implementation."  MercadoLibre, the largest e-commerce ecosystem in Latin America who provides an on-line trading platform in which over 100 million consumers use to buy and sell.
The  8/5 and 24/7 annual Galera support subscription includes:
Unlimited support tickets
Hot bug fixes
Security releases
New Releases of the software
Contact by email, skype or telephone
Remote system login
Named support contacts (Galera developers)
Zendesk support portal and ticket management
8-hour response time for 8/5
4-hour response time for 24/7
Free training for two (public training course)
Free usage of Galera Manager (Galera monitoring and management tool)
Pricing, for price inquiries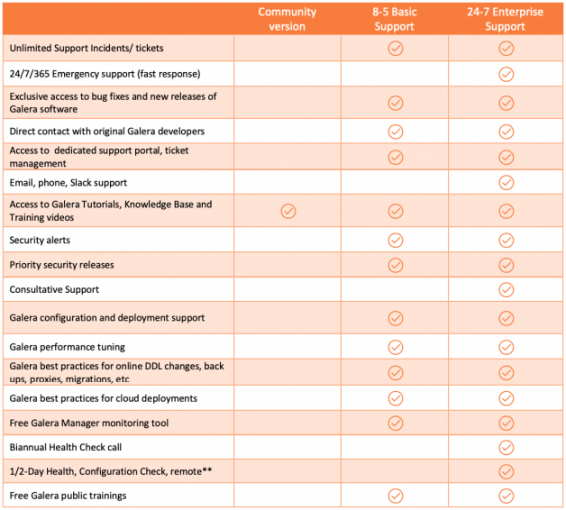 ---
Consulting

Our Galera experts have years of hands-on experience with database replication and clustering, both in development and management. Putting our expertise to use will help you to avoid trial and error, to save time and money, as well as help you to make the right choices at any given during your project. We will happily work on both short-term and demanding long-term consulting assignments – your needs will dictate our method.
GALERA UPGRADE CONSULTING
MySQL 5.7 will be End of Life in October 2023.
Engage with our experts to assess requirements, and go through an upgrade plan to get to MySQL 8 with Galera Cluster. We'll save you time and make sure your Galera Cluster upgrade process is smooth. We will cover common pitfalls, what has changed in MySQL 8, what changed in Galera 4, necessary checklists to successfully plan and execute a major upgrade (knowing that this is a one way process), discuss the use of proxies, and also if cover the need to migrate from something as old as MySQL 5.5 to MySQL 8.Upgrade consulting should be a minimum of 1 day, and there is an optional training component to this which is also an additional 1 day, which includes hands-on labs.
Pricing
Method of consulting
Consulting is done remotely, if not agreed to be performed on-site. For on-site assignments, travel and accomodation expenses are charged in addition.
---
Galera Evaluation Services
Work with us to test your multi-master set up either in a LAN/WAN environment or as a cloud based installation. We will help you to verify your architecture design, replication robustness and service availability, load balancing and application performance, back-up strategies, disaster recovery and upgrade plans in a "real world" test. We can also review your application for ensuring proper and optimized clustering usage.
Proof-of-concept consulting can be 1 day assignments or extended, depending on your needs.
Galera Implementation Services and Training
Engage our experts to install and configure Galera for you.  We'll save you time and and to make sure your Galera Cluster is set up properly for production and application usage. Installation and configuration can be performed efficiently through remote site visit. We can help you to upgrade your Galera installation to a new release or to migrate from some other replication solution to Galera. We'll provide quidance for how to use and manage Galera, and training on Galera best practices.
Implementation consulting and training can be a 1 day assignment or extended, depending on your needs.
Galera Integration Services
If you are looking to integrate Galera into your replication framework, we can provide full integration and help with:
Assessing requirements and advising on the suitability of our products for particular application.
Planning and configuring the cluster with regards to specific needs.
Refactoring applications to improve the cluster efficiency.
---