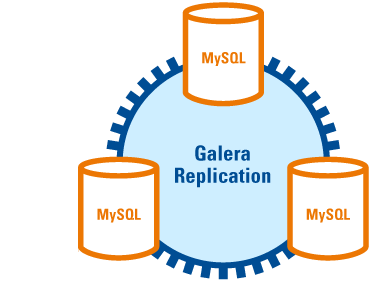 Benchmark in data loss protection
Galera Cluster for MySQL is  a true Multimaster Cluster based on synchronous replication. Galera Cluster is an easy-to-use, high-availability solution, which provides high system uptime, no data loss and scalability for future growth.
World's most advanced features
Synchronous replication
Active-active multi-master topology
Read and write to any cluster node
Automatic membership control, failed nodes drop from the cluster
Automatic node joining
True parallel replication, on row level
Direct client connections, native MySQL look & feel
Un-seen benefits
No slave lag
No lost transactions
Both read and write scalability
Smaller client latencies
Read about technology behind Galera Cluster >
Use cases

Use case
Read Master
Traditional MySQL master-slave topology, but with Galera all "slave" nodes are capable masters at all times, it is just the application who treats them as slaves. Galera replication can guarantee 0 slave lag for such installations and due to parallel slave applying, much better throughput for the cluster.
Use case
Write scalability
Distributing writes across the cluster will harness the CPU power in slave nodes for better use to process client write transactions. Due to the row based replication method, only changes made during a client transaction will be replicated and applying such a transaction in slave applier is much faster than the processing of the original transaction. Therefore the cluster can distribute the heavy client transaction processing across many master nodes and this yields in better write transaction throughput overall.

Use case
WAN Clustering
Synchronous replication works fine over the WAN network. There will be a delay, which is proportional to the network round trip time (RTT), but it only affects the commit operation.
Use case
Disaster Recovery
Disaster recovery is a sub-class of WAN replication. Here one data center is passive and only receives replication events, but does not process any client transactions. Such a remote data center will be up to date at all times and no data loss can happen. During recovery, the spare site is just nominated as primary and application can continue as normal with a minimal fail over delay.
Use case
Latency Eraser
With WAN replication topology, cluster nodes can be located close to cilents.Therefore all read & write operations will be super fast with the local node connection. The RTT related delay will be experienced only at commit time, and even then it can be generally accepted by end user, usually the kill-joy for end user experiences is the slow browsing response time, and read operations are as fast as they possibly can be.
---
Previous
Success story: KPN
The Grip platform combines all cloud services and ensures provisioning, single sign on, business app store and provides corporate customers with a central starting point for all cloud services, as well as a single bill and support desk. Grip is based on Drupal, and for data storage a two data centers, quadruple master Galera Cluster for MySQL is used.

Read more from Acquia.com who integrated Drupal and Galera for KPN Corporate Market
Success story: HP
HP Cloud uses Percona XtraDB Cluster (Galera) in their DNS-as-a-Service application. With the help of Percona consulting services, they built a fully automated Chef based installation procedure and were pleased with the simplicity of managing a Galera Cluster: 

"I am very pleased at the architecture we have chosen for the database component of our DNSaaS and encourage anyone who needs a simple MySQL-based HA solution for their application to consider using such a setup." says Patrick Glabraith of HP
Success story: OpenStack
OpenStack is an open source solution for running a public or private cloud. Many of the OpenStack services use a MySQL database as a storage backend to store their own state. In addition the Red Dwarf OpenStack component provides a Database-as-a-Service solution, again by default based on MySQL. OpenStack is the largest open source cloud community, with Rackspace, HP, Dell, Red Hat, etc… as members.
The OpenStack manual recommends Galera replication to make MySQL instances highly available.
Next
Greetz replaces Oracle's Real Application Cluster with Galera Cluster for MySQL high availability

Case study
MercadoLibre chooses Galera Cluster
MercadoLibre is the on-line trading platform in Latin America in which 58 million consumers  use to buy and sell a variety of consumer items and much more. It's the largest e-commerce ecosystem in Latin America. Galera Cluster helps Mercadolibre with 80 + databases data protection and availability.
"Codership's Galera Cluster community and support are fantastic. It's difficult to find a dedicated support team such as theirs these days. The product is great, it just works as we expected it to with no surprises. It scales and we happily promote it ourselves as the defacto database for Openstack and for everyone that needs an active-active schema that really works."
– Leandro Reox & Alejandro Comisario.
Case study
Spil Games Reduces Maintence of High Availability with Galera Cluster
Spil Games is a social gaming company, with over 250 employees. It has grown in a short time from an internet start-up, to a global on-line gaming leader. It has now 49 gaming sites, serving 180 million users per month. This rapid growth of a business based very much on its database, and that has a large user-base that demands high-speed data service, presented some major challenges to Art van Scheppingen, as Head of Database Engineering at Spil Games.
Now that Spil Games has deployed Galera Cluster, it has given them much more flexibility. "We cut down on the number of components involved, reduced complexity and increased velocity," says van Scheppingen. "We now can deploy a new cluster or add a new node a lot faster." The benefits have been no data loss, no slave lag, 24/7 availability, and no complex fail-overs. All of this has lead to no down-time or data loss, the retaining of customers, and the growth of revenues.
Case study
Greetz replaces Oracle's Real Application Cluster with Galera Cluster for MySQL high availability
Highly Available Greetings: Greetz uses MariaDB Galera Cluster for online Greeting Card Platform
Greetz provides on-line personalized greeting cards to thousands of customers. Their webshop application is built on Java and Hibernate (Object Relation mapping) and, prior to moving to MariaDB Galera Cluster, used Oracle(TM) Real Application Cluster as its underlying database. Their infrastructure is based on Linux and they use Ansible for configuration management.
Greetz approached Codership''s partner MariaDB Corp to provide them with a replacement database technology for their webshop that would significantly reduce the total cost of ownership of their database, while ensuring high availability and a solid, predictable performance.
---