As per our recent blog post, the Percona Live MySQL Conference & Expo promised to be a great week for the Galera Cluster user community! Plenty of talks, tutorials & sessions that covered or touched on Galera Cluster. Thanks again to everyone who presented or participated at these sessions, it's great to see that level of interest.
You can find a list of all the Galera Cluster coverage at the conference here!
The conference itself was a nice success overall, from an excellent program through to a busy Expo Hall.
We were lucky enough to be selected for a MySQL Community Award as well and were also nominated for the Red Herring Europe Top 100 that same week, thank you to everyone involved in making those events happen and congratulations to our fellow winners & nominees.
Here is a recap of our week in Santa Clara in words & pictures!
MySQL Community Award for Application of the Year 2014
We were delighted of course to receive this year's Application of the Year award!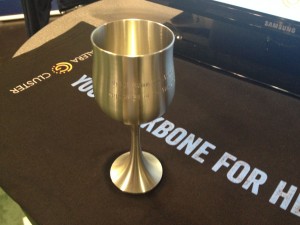 And pleased to receive the award in the company of the other deserving winners during the community reception at the expo hall.
Here are the happy receipients: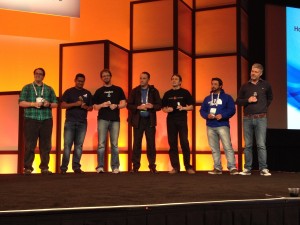 Holding the trophy with a Galera Cluster supporter ;-)
Galera Cluster Talks by the Codership Galera Cluster Team
Galera Cluster New Features
Speaker: Seppo Jaakola
Replication and High Availability Strategies
Galera Cluster for MySQL is a revolutionary step forward in MySQL high-availability. It provides synchronous, multi-master, active-active clustering for InnoDB. No longer do you have to make tradeoffs between data integrity/durability and failover time, nor do you have to accept a performance hit because you need high-availability.
Galera Cluster version 3 was released in November 2013 and since then the work for next generation Galera Clustering has started. In this presentation we give an overview of Galera Cluster features and benefits and walk through the version 3 and later new features.
Full description: http://www.percona.com/live/mysql-conference-2014/sessions/galera-cluster-new-features
Write Conflicts in Multi-Master Replication Topologies
Speaker: Seppo Jaakola
Replication and High Availability Strategies
Galera Cluster is synchronous multi-master cluster, which allows clients to read and write to any cluster node, without any limitations.
When two or several clients happen to write to same data element at the same time, the cluster must decide how to resolve the conflict – the bottom line is that only one write can be accepted. Galera will resolve this by letting the first committing transaction to succeed and latter transaction will rollback and receive deadlock error. This protocol will make sure that data is consistent at all times, but the toll is that transaction throughput will degrade if conflict rate grows too high.
In this presentation, the focus is on:
How to detect multi-master conflicts in Galera Cluster and what to learn of them
How big conflict rate is acceptable before you get to experience performance degradation
If deadlocks cause performance problems, how to minimize the conflicts
Full description: http://www.percona.com/live/mysql-conference-2014/sessions/write-conflicts-multi-master-replication-topologies
Alex Yurchenko also appeared on the Silicon Angle, The CUBE, interview series; you can watch his interview here: http://www.percona.com/live/mysql-conference-2014/siliconangle-thecube/interviews-day-3